South Carolina

SC Entertainment, Arts

SC Shag Dancing
Also see: SC State Symbols
The Shag in SC
The Carolina Shag was designated the
official state dance
of South Carolina in 1984, but for more than a half-century, it has been synonymous with warm sand, cold beer, and beach music. A form of Southern swing, it's said to have begun along the Grand Strand as early as the 1920s. The Shag's smooth rhythm has been described as "the jitterbug on Quaaludes"
1
– indeed, the gliding steps may have begun as an adaptation to avoid kicking up sand. (Some also say limiting upper body movement helped prevent spilled drinks!)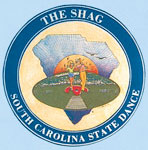 The Shag may have originated in part at Charlie's Place, a black nightclub in Myrtle Beach owned by Charlie Fitzgerald. Charlie's Place was located in an African-American section of town called The Hill, and despite segregation laws and customs, white and black dancers alike packed the club each night to dance to the music they loved.
As
Beach Shagger's Hall of Famer
Harry Driver explains, "We were totally integrated because the blacks and whites had nothing in our minds that made us think we were different. We loved music, we loved dancing, and that was the common bond between us."
2
Before World War II, the Shag was danced to what was then referred to as race music and is now known as rhythm and blues. (Beach music was a later off-shoot of R&B.) Considered illicit, the music was uncommon on radio stations. Many white teenagers flocked to black nightclubs and "juke joints" where it was a staple. The intermingling of blacks and whites, especially in the form of a somewhat suggestive dance, flew in the face of Jim Crow and occasionally
met with severe consequences
.
According to the Oxford English Dictionary,
shag
or
shagging
can refer to an act of sexual intercourse. At The Pad, once a hotbed of Shag culture, townsfolk insisted that latticework be constructed over the lower part of the building to prevent anyone from inadvertently seeing the risque moves within.
3
Over the years, the Shag has become a South Carolina institution with a devoted following. Numerous organizations have developed to support and promote the dance that has embedded itself in our culture. Below you'll find videos, a directory of Shag festivals and events, SC Shag organizations and venues, info on classic Shag bands, and much more. Enjoy!
SC Shag Dancing Festivals, Events
SC Shag Organizations
SC Shag Venues
SC Shagging Images, Videos
Pawleys Pavilion - Popular Shag venue destroyed by fire in 1970

ShagCityTV - YouTube channel hosted by the Shag City Digital Entertainment Network


Shagging at Fat Harold's in North Myrtle Beach - There are dozens of Shagging videos on YouTube, but most document competitive dancers. We chose this one to share with you because it features the Shag as most of us know and love it – just a casual dance between friends. The background of this video also features one of the Grand Strand's most well-known Shag landmarks, Fat Harold's Beach Club.

SC Classic Shag Music, Bands
The Catalinas - Formed in Charlotte, NC, this 1950's beach music band has filled the Myrtle Beach Pavillion "more times than its members can count."

The Embers - Touring the country spreading soulful beach music from their home base in North Carolina.

Bill Pinkney's The Original Drifters - Dalzell's Bill Pinkney was the only surviving member of the 1953 band when he passed away in 2007.

Swingin' Medallions - Greenwood's own "The Party Band of the South" is still swingin'.

The Tams - Atlanta-based Beach Music Hall of Fame group has been performing for over 40 years. Be sure to click Listen to the HITS.

Maurice Williams and the Zodiacs - Lancaster native's song Stay was #1 in 1960.

SCIWAY's SC Soundtrack - Hear many of these artists on SCIWAY's own I-mix.

Beach Music is SC's official Popular State Music - Learn about the music that goes hand-in-hand (or step-by-step) with Shag dancing.

SC Shag Radio Programs, Stations
SC Shag Movies
Shag: The Movie

This film features the lighthearted tale of four teenage girlfriends in 1963 who escape the small town of Spartanburg for a weekend in Myrtle Beach. Their story chronicles their good-bye to girlhood, the bond between friends, and of course the love of our great South Carolina state dance, the Shag.
Shag Nation

Shag Nation is a documentary short about the Carolina Shag Dance and the charmingly quirky subculture behind it.
History of Shag
There are many articles on the Internet that claim to present the history of the Shag. The Shag does not have a clear timeline, and there are many possible theories for exactly how it came to be and who created it. There is even some confusion about where it started, though it is generally believed to have begun on or near the beaches of the Grand Strand and Lower Cape Fear. Like many art forms, the Shag probably evolved over a period of years. The articles below have accurate, honest descriptions of the dance's history.
Learn How To Shag
Shag, The Basic - Detailed explanation of Shag's "basic" and most important movements

Walter Edgar, "The South Carolina Encyclopedia" (Columbia: 2006, 859-860).
Charles Joyner, "A Region in Harmony: Southern Music and the Sound Track of Freedom" (Houston: February 2006, 1).
'Fessa John Hook, "Shagging in the Carolinas" (Charleston: 2005, 47).