South Carolina

SC State Symbols

SC Beach Music
History of South Carolina Beach Music
In 2001, Beach Music was named the official Popular State Music of South Carolina through
House Bill 3634
. It originated around the time of the second World War, and has come to be regarded as synonymous with the official state dance, the
Carolina Shag
.
Originally, Beach Music referred to African American "race" music. This music, which we now call rhythm and blues (or, R&B) could only be found locally on the jukeboxes of South Carolina's beachside "jump-joints" and saloons. It was considered inappropriate and sexually suggestive, and a tamer version would later evolve which has come to be known as Bubble-Gum Beach.
Sometimes called
Carolina
Beach Music, this genre (or
style
) evolved from numerous musical styles of the 1940's, 50's, and 60's. Different songs might resemble big band swing, the blues, jazz, doo-wop, or rockabilly, and while many disagree on its origins, few would argue its close association with R&B.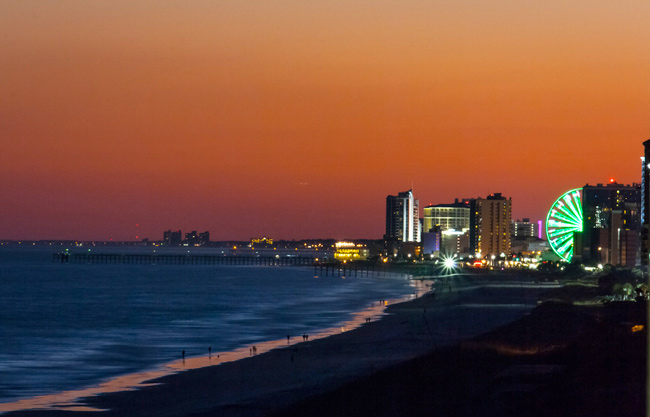 Myrtle Beach
©
Scott Maze
of
Lexington
, 2012
White youth in the South found it difficult to hear the different styles of music they enjoyed. There was one radio station that played rhythm and blues - WLAC, out of Nashville, Tennessee. This 50,000 watt station broadcast throughout the south, but parents tended to frown upon listening to such music in the home.
As a result, teens flocked to the bars and pavilions of South Carolina's beach towns to dance and listen to music on the jukeboxes. Some classic artists included the Drifters, Artie Shaw, The Coasters, Sam Cooke, and The Four Tops. Many of the more popular artists of the time produced obscure "b-sides" that rarely made the hit music charts. These are the songs that wound up on beach-side jukeboxes and came to define the genre.
Get Beach Music!
Here are some CD's that will provide all the beach music you'll ever need!
Beach Music Anthology - Box Set

A wide variety of true beach music artists that provide hours listening enjoyment! From the first hit to the last, this anthology is full of hidden treasures and beach music classics that will get your feet tapping.


25 Beach Music Classics

This ain't the Beach Boys or Jan & Dean, this is East Coast beach-party music with an R&B bent: Build Me Up Buttercup Foundations; Whispers (Getting' Louder) Jackie Wilson; The Shoop Shoop Song (It's in His Kiss) Betty Everett; Cool Jerk Capitols; Hey! Baby Bruce Channel; Give Me Just a Little More Time Chairmen of the Board, plus Platters, Embers and more.

South Carolina Beach Music Festivals
More South Carolina Beach Music Resources
Beach Music Online - events listing, music reviews
SC Shag - SCIWAY's guide to our state dance so you'll be ready when the beach music starts to play