South Carolina

SC Facts & Firsts

SC State Symbols

SC State Beverage
Milk: South Carolina's State Beverage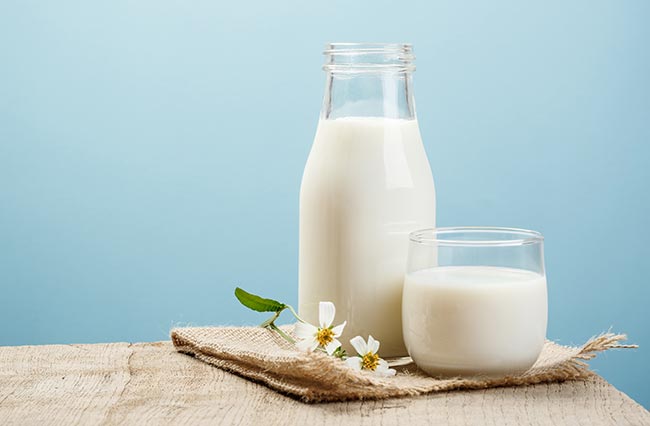 Milk: South Carolina's State Beverage © Do Not Use Without Written Consent
Milk is the official State Beverage of South Carolina, as specified in
Act 360
of the Code of Laws of South Carolina. The 105th Session of South Carolina's General Assembly, which convened from 1983 to 1984, declared that milk should hold this status for the following reasons:
The use of milk and milk products is the best way to provide a healthy but varied diet;
Over twenty percent of the nation's protein is supplied by dairy products;
Seventy-two percent of all the nation's calcium comes from dairy products;
Dairy farmers are found in every county of this State except seven;
Nearly fifty thousand cows produce nearly five hundred seventy million pounds of milk annually in the State with a gross volume alone of over eighty-nine million sixty-two thousand dollars;
The dairy industry in this State represents a one hundred million dollar enterprise.
Cows at the Milky Way Dairy Farm in Anderson, SC
(
Vanessa Kauffmann
© Do Not Use Without Written Consent)
The last one in the list above, number six, is important because it points to a powerful dairy lobby, not just in South Carolina but across the country. In fact, milk has been designated the official State Beverage for 19 other states, making it by far the most popular choice in America. Only 26 states have State Beverages at all, with only six of those being drinks other than milk. For example, in Florida, the State Beverage is orange juice.
South Carolina, incidentally, is the only state to have both a "State Beverage" and a "State Hospitality Beverage" (
sweet tea
), although Kentucky and Nebraska also have a "State Soft Drink," and Virginia also has a "State Spirit" (rye whiskey).
Cows Grazing at the Milky Way Dairy Farm in Anderson
(
Vanessa Kauffmann
© Do Not Use Without Written Consent)
Since the passage of Act 360, milk production in South Carolina has since dropped considerably. Around 90 dairy farms existed in our state in 2008
1
, and around 75 existed in 2013. These farms are located mainly in the Midlands and Upstate. In 2013, there were 16,000 dairy cows, with Newberry, Orangeburg, Bamberg, Edgefield, and Saluda County ranking first through fifth, respectively, for milk production. Each dairy cow in South Carolina produced an average of 1,919 gallons of milk during the year. (These 2013 figures are the most recent available from the
South Carolina Dairy Association
.)
Milky Way Dairy Farm in Anderson, South Carolina
(
Vanessa Kauffmann
© Do Not Use Without Written Consent)
Nevertheless, as of 2016, the United States as a whole became self-sufficient in milk production, and since that year there has actually been a glut of milk available. Efforts to supply milk more humanely have increased, and South Carolina is home to several free-range dairy farms, many of which also feed their cows only grass.
Milky Way Farm
in
Anderson County
is one example, as is
Happy Cow Creamery
in
Greenville County
.
Belue Farms
, located in
Spartanburg County
, sells raw milk made by Milky Way Farm.
Charleston's Coburg Cow
Bessie, the Coburg Cow, at Christmas in Charleston, South Carolina
(Cortney Price © Do Not Use Without Written Consent)
The Coburg Dairy in
Charleston
was perhaps best known for its mascot, Bessie, who still stands proudly atop a rotating platform on US 17 in West Ashley. Bessie is now owned by Borden, which continues the tradition of dressing her up in seasonal apparel throughout the year. Want to read more about her history? Click to see more photos and learn all about the
Coburg Cow
!
Clemson's Blue Cheese
Cheese, yogurt, and ice cream are just a few of the many foods that can be made using milk.
Clemson University
is famous around the state for its delicious blue cheese, "
Clemson Blue
," and for the milkshakes made in the college's own
MicroCreamery
. For years, Clemson used the
Stumpouse Tunnel
in
Oconee County
to cure its blue cheese. It purchased the tunnel in 1951.
Milk Production and Dairy Farming
Milk is a liquid produced by the mammary glands of mammals to nourish their young. In addition to dairy cows, milk used for human consumption also comes from goats and other animals, including buffalo, camels, donkeys, horses, yaks, sheep, reindeers, and of course, people. That said, it is estimated that cows produce around 90% of the world's milk supply. All cows are female; males are referred to as bulls. Cows cannot produce milk until they have given birth to a calf, which means that most cows are kept in a constant state of reproductive stress in order to increase their profitability.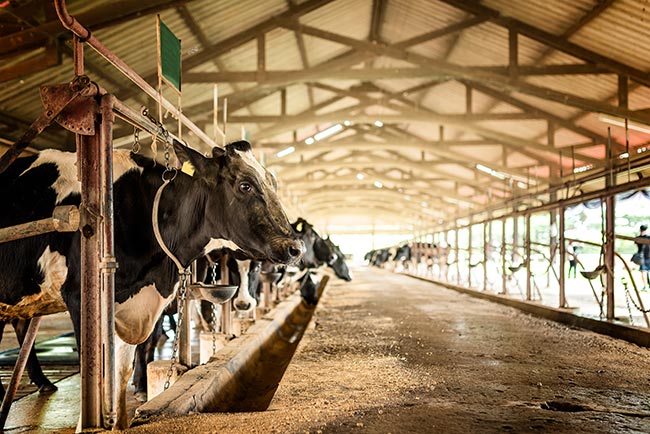 Dairy Cows in Holding © Do Not Use Without Written Consent
Dairy farmers like to have their cows artificially inseminated by 15 months, so the process, which can be unreliable, often begins between 12 and 14 months. A cow's gestation period is 283 days, almost exactly the same as a human mother's, and once she gives birth to her calf, she is able to feed her for three days. Calves are then fed with a powdered milk substitute which has been mixed with water.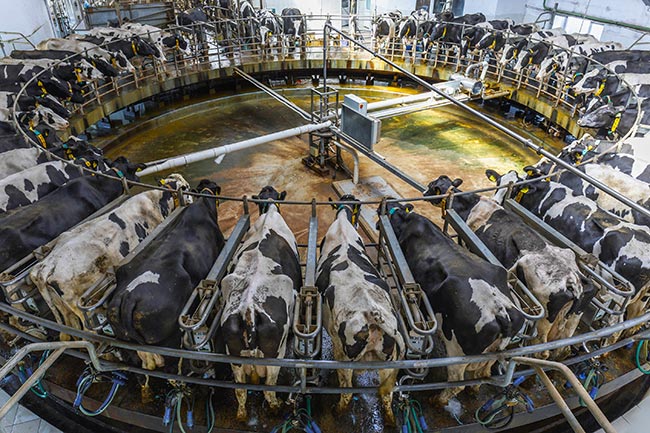 Dairy Cows in Milking Carousel © Do Not Use Without Written Consent
We say "her" in the sentence above because young bulls are usually separated from their mothers after a few hours and sold for veil. This is due to the fact that bulls cannot produce milk and thus have little value on dairy farms, aside from as studs. The young dairy bulls are generally kept alive for 18 or 20 weeks, at which time farmers' deem them large enough to be lucrative. Before their slaughter, they are kept in crates to curtail movement and prevent muscle and organ development. Thus their meat stays as tender as possible for consumers.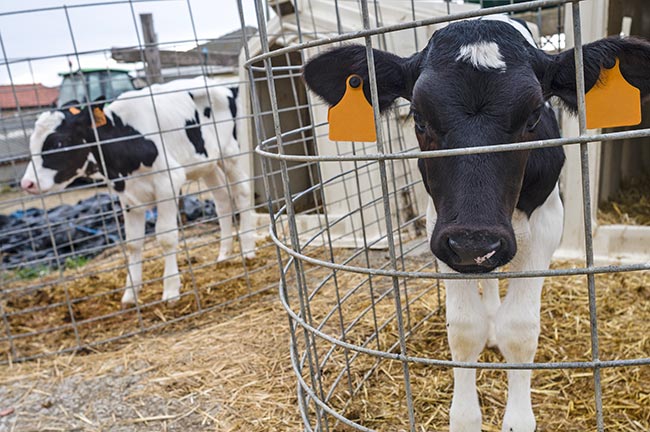 Male Calves in Veal Cages © Do Not Use Without Written Consent
A dairy cow can live as long as 20 years, but most cows in dairy plants live to be just four, by which time their bodies have suffered to the point where their milk production wanes. They are then also sold as beef. Once a cow gives birth to her first calf, she will be in a period of peak milk production for 30-60 days, after which time she will be inseminated again. While she is pregnant with her next calf, she will continue to be milked until roughly 45-50 days before her impending delivery. Her mammary glands are then allowed to rest in order to prepare them for another period of intense production.
Statistical information provided by James Williamson, Jr. of the South Carolina Department of Health and Environmental control in August 2008.