South Carolina

SC Facts & Firsts

SC State Symbols

State Hospitality Beverage
SC State Hospitality Beverage – Tea
In 1995, South Carolina's General Assembly determined that since tea is the "world's most popular beverage" – besides water, of course – it should serve as the state
hospitality
beverage.
Act Number 31
was soon ratified, making this an official symbol of our state.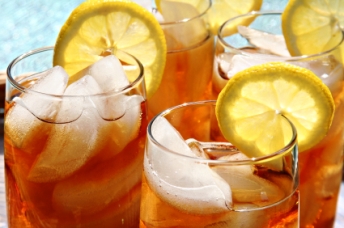 Iced Tea with Lemon
Tea was first brought to North America in 1799 by famed French botanist André Michaux. A gift for future governor
Henry Middleton
, owner of
Middleton Barony
in Dorchester County, the plant was grown solely as an ornamental and its leaves were never brewed. Since then, however, the coastal region of South Carolina has proven to be ideal for harvesting tea.
Charleston Tea Plantation © SCIWAY, 2008
One area in particular features the tropical climate and sandy soil best suited for tea growth.
Wadmalaw Island
is located just south of Charleston and is the home of "America's Only Tea Garden," the
Charleston Tea Plantation
. Owned in part by R. C. Bigelow & Company, this modern plantation boasts 127 acres and 320 varieties of tea.
More about Tea in South Carolina