Business / Organization Ads: ANNUAL FEATURED AD
Annual Featured Ads are expanded listings that appear at the top of a page and include your link, phone number, address, description, and a large image.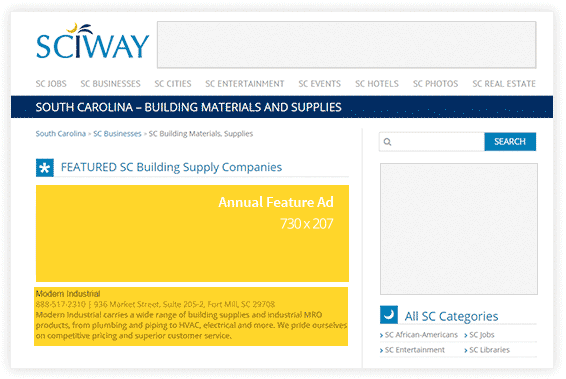 Please note that in keeping with Google's quality standards, your links will be coded "nofollow". This will allow your website to be included on SCIWAY while also keeping you safe in search engines.
Annual Featured Ads appear at the top of the page. When multiple Annual Featured Ads appear on the same page, the order of the postings will rotate each time a new visitor arrives to the page. Please know that your posting will
always
appear on the page – sometimes it will be first, sometimes it will be last, and sometimes it will be in the middle. This method is used to ensure equality among our advertisers.
Do you need a graphic? We'll create it for FREE!
If you need us to create a graphic for you, we are happy to help.
There is no charge, and we will work with you to make sure we understand any special wishes you have for its design. You will also have the right to approve your graphic before it goes live.
Take a look below at the graphics we've already created!