South Carolina

SC Facts & Firsts

SC State Symbols

SC State Seal and Mottos
South Carolina State Seal
The state seal was the first of South Carolina's state symbols. It was first used in 1777, although it looked different then. At that time, it was two sided, and impressions of the two sides would be put into wax so they could be affixed onto documents. This proved difficult, so eventually the two sides were combined so that they fit next to each other on a one-sided seal, which is what we have now.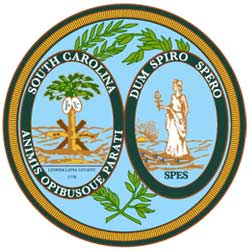 South Carolina State Seal
The left oval was originally the front of the seal, and it has the first of our two state mottos on it:
"Animis Opibusque Parati,"
which is Latin for "Prepared in Mind and Resources." The picture is of a
palmetto tree
and represents a battle victory against the British at present-day
Fort Moultrie
during the
Revolutionary War
.
The right oval was originally the reverse side of the seal, and it has our
second state motto: "Dum Spiro Spero,"
which is Latin for "While I Breathe, I Hope." The picture on this side of the seal ties in with the motto, because the woman pictured is the Roman goddess Spes, who was the goddess of hope.