South Carolina

SC History

SC African-American History

Notable SC African-Americans

Robert Smalls
Robert Smalls
On May 13, 1862, Robert Smalls – an enslaved deckhand – commandeered the Confederate transport ship,
The Planter
, and sailed it out of the
Charleston
harbor, carrying his family and crew to safety.
Smalls, who had experience piloting, disguised himself as the boat's captain and sailed past five Confederate forts towards a Union blockade, where he surrendered the ship to United States Navy and secured freedom for himself and his fellow
slaves
.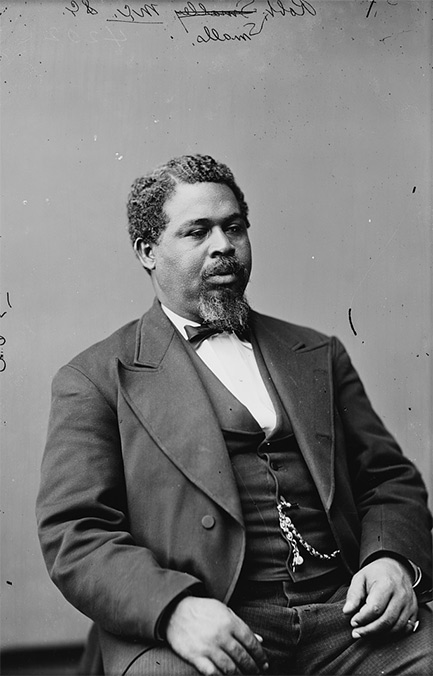 Smalls then joined the Navy and was made captain of
The Planter
until the close of the
Civil War
. Following the war, Smalls returned to his home town of
Beaufort
, where he represented his district for five terms in the United States Congress.
Smalls was elected to the South Carolina House of Representatives in 1868 and then to the South Carolina Senate in 1870. He served in the United States Congress from 1875 through 1879 (two consecutive terms), from 1882 through 1883, and again from 1884 until 1887.
As a freedman in Beaufort, he was a member of Tabernacle Baptist Church, where he is buried. A bronze bust has been erected in his honor near his grave. He was also a member of the
Grand Hall of the Republic
, fraternal organization founded in 1866 for African-American veterans of the Civil War.
Grand Hall of the Republic •
Vanessa Kauffmann
, 2015 © Do Not Use Without Written Consent
Smalls founded the Republican Party of South Carolina, which at that time mirrored the values of President Abraham Lincoln.
Robert Smalls Biography
Robert Smalls Aboard the Planter
More about Robert Smalls
Robert Smalls Statue, Tabernacle Baptist Church, Robert Smalls Grave
© Ester Fogle