South Carolina

South Carolina Football

Carolina Football Traditions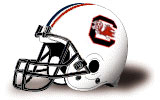 USC Football Quick Facts
Hometown: Columbia

Stadium: Williams-Brice, aka "The Cockpit"

Mascot: Gamecock – Named for General Thomas Sumter, a famed guerrilla fighter of the Revolutionary War, who was known as "The Fighting Gamecock."

Colors: Garnet and Black

Nicknames: Carolina, USC

Conference: SEC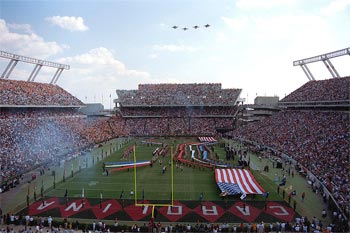 The Sounds and Songs of USC Football
Alma Mater: When We Hail Thee Carolina is sung, students and alumni should raise their hands with fingers cupped at the phrase "Here's a health, Carolina, forever to thee!" as if offering a toast. (Listen to USC's alma mater.) Gamecock fan Gloria says, "My favorite tradition is the singing of the USC Alma Mater before each home game. Though I graduated in the 70s, it never ceases to be a source of pride and honor to salute my university."


USC's Fight Song: Hear Carolina's marching band, "The Mighty Sound of the Southeast," play Step to the Rear, the song that gets all Gamecocks fired up on game day. ( Listen here )


The Fighting Gamecocks Lead the Way
"Hey, let's give a cheer, Carolina is here,
The Fighting Gamecocks lead the way.
Who gives a care, if the going gets tough,
And when it is rough, that's when the Cocks get going.
Hail to our colors of garnet and black,
In Carolina pride have we.
So, GO Gamecocks GO – FIGHT!
Drive for the goal – FIGHT!
USC will win today – GO COCKS!
So, let's give a cheer, Carolina is here.
The Fighting Gamecocks All The Way!"


2001 – A Space Odyssey: Rated college football's most exciting pre-game entry by The Sporting News, the entry of Carolina's football team into Williams-Brice Stadium throws fans into a frenzy before every home football game. Fans pack into the stadium, waiting with feverish anticipation as game time draws near. Then, the first notes of Carolina's theme song – 2001 – A Space Odyssey – blare over the stadium sound system. As the crowd of more than 82,000 begins to roar with excitement, in perfect coordination with the music, the Gamecocks run onto the field and the crowd goes wild.

Watch this video of Carolina's pre-game entry, shot in 2001 when ESPN's College GameDay broadcasted from Williams-Brice Stadium. The fans had a 'blackout' and wore all black, in hopes of recapturing the Black Magic.



USC Cheers & Customs
The Tigerburn: As Charlestonian and avid Gamecock fan Ann explains, "The celebration before the Carolina-Clemson game in November is by far the best college football tradition. During a school-wide pep rally the night before the game, a 20-foot tall tiger is set ablaze and students and alumni sing school cheers led by the school band." The Tigerburn tradition started when Carolina beat Clemson in 1902. Carolina students paraded around campus with a banner that had an image of a tiger with a gamecock standing on top of it, grabbing its tail. Clemson students were enraged and a riot broke out. In an effort diffuse the tension, the poster was burned and the tradition of Tigerburn was born.


GO COCKS!: The Gamecock has been associated with USC since 1902 but when did fans begin cheering Go Cocks? Ben Peeler of Charlotte was there and shares the episode. "I was present at a game in 1969. I believe we were playing NC State or North Carolina. We were winning quite handily so the crowd was somewhat quiet. An obviously inebriated young man mounted the stage where the cheerleaders were and began exhorting the student section with GoooOOOOOOO Cocks! After that the cheer was added just before the fight song plays, C-A-R-O-L-I-N-A Fight, Fight, GoooOOOOOOO Cocks!


Black Magic: In 1984, Black Magic fever ran rampant at Carolina. The tradition started with Coach Joe Morrison, who was famous for wearing all black to every game, even in the sweltering Columbia heat. The Gamecocks set the school record that year for most wins in a single season, and Joe Morrison, in his all black garb, was revered by all. The Black Magic team of 1984 finished 10-2 and was ranked 11th in the nation. Often called the greatest Gamecock football team, the Black Magic squad's legacy lives on. Many fans wear all black to games in hopes of recapturing some of the magic from that 1984 season.


A House Divided: "Every year, when the Gamecocks play Clemson, my mother and I sit down to watch the MOST anticipated game of the season," says Gamecock fan Charles Sweigert of Pennslyvania. His mom is a Clemson fan, so they are what is known as a House Divided! Charles says that before he moved out of his mother's house, they watched the Carolina-Clemson game together. Now, they watch the game and text back and forth, rubbing each other's nose in a touch down, a field goal or an awesome play!


Obvious Omission: If you notice something is missing from this page, we're leaving it out on purpose! It's bad luck. In fact, you shouldn't even be THINKING about it. So stop! ;)



USC Tailgating Traditions
Cockabooses – Also known as "Railgating," the Cockaboose Railroad is perhaps the most unique tailgating venue in the entire country. Just behind the south end zone stands at Williams-Brice Stadium sit 22 real train cabooses, all of which have been renovated to the hilt to provide an almost luxurious tailgating experience. Each Cockaboose has a sun deck where fans grill out, party, and listen to music. Check out Columbia Magazine's great article on Carolina Cockaboose Tailgating, including lots of great photos!



USC Cockaboose Railroad

State Fairgrounds – Another great place to tailgate is South Carolina's state fairgrounds. As Gamecock fan Christina says, "Tailgating is the most fun at the fairgrounds before every Carolina home game. Generations of Carolina fans have enjoyed this tradition for years. This year, our own daughter is a sophomore at Carolina and she is enjoying it as a student. She has been going to the games since she could walk, and it makes her Grandaddy and parents so proud to see her be able to experience tailgating as a Carolina Student. Two things we never tailgate without are pimento cheese sandwiches cut with a Gamecock cookie cutter and sprinkled with paprika. And of course, fried chicken!"


Tailgating Tip? Try "Ground Clemson Tiger" Dip! – For a USC recipe with lots of bite, try chump dip – better known as "Ground Clemson Tiger Dip." The following recipe comes from loyal Gamecock fan BK Shaw of Anderson: "First, melt Velveeta cheese and Pace Picante Sauce together, and then throw in 5 pounds of ground tiger (turkey). Season to taste with Old Bay and cajun spices. Throw in a few jalapeno peppers, and watch the Cocks march on!"


And No Matter What, Stay True! – Take it from Freddie Harmon of Gaffney, a die-hard Gamecock fan, who says, "Plain and simple, [I] have not missed a USC home game since 1981. No superstitions, just always cheer for USC and love Cocky. Be mindful of those around you and pray to the Lord for a good game. Anyone can pull for a winner, but it takes a real fan to hang in there with USC."


More Gamecock Fun!
100 Things South Carolina Fans Should Know & Do Before They Die

Learn about the important moments and facts about past and present players, coaches, and teams that are part of the storied history that is South Carolina football. Makes a great gift for any USC fan!


Cookin' With Cocky II

Cookin' with Cocky features a collection of tailgating recipes accumulated from hundreds of University of South Carolina Gamecock fans, coaches, and players including Steve Spurrier, Bob Fulton, Joe Pinner, and more! Makes a great gift for any Gamecock fan.
Did We Miss Something?
Submit your favorite Gamecock cheers, customs, superstitions, and tailgating traditions.