South Carolina

SC History

SC Governors

Governor Robert Evander McNair
Also see: SC Government
Robert Evander McNair, Sr.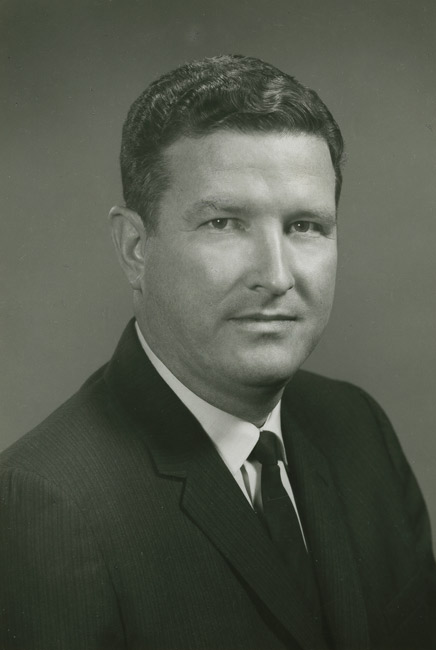 Born: December 14, 1923 in
Cades
,
Williamsburg County
Died: November 17, 2007 in
Charleston
Buried:
Ballsdam Plantation
in Jamestown near
Moncks Corner
Religion: Baptist
Political Party: Democrat
(Photo: University of South Carolina)
Robert McNair: Education
Robert McNair: Occupations
Lawyer
United States Naval Reserve – 1942-1946

1st Term Events, 1965-1967
2nd Term Events, 1967-1971
March 1, 1967 – The General Assembly amended the state constitution to allow women to serve on juries.


June 20, 1967 – The General Assembly passed the "brown bag" law, permitting individuals to carry their own bottles of liquor into restaurants.


February 8, 1968 – A protest at South Carolina State College (now South Carolina State University) in Orangeburg ended in the death of three unarmed black students. It is now known as the Orangeburg Massacre.


March 14, 1968 – Membership in the State Bar became mandatory for all lawyers practicing in South Carolina.


1970 – Governor McNair signed an act establishing Francis Marion University in Florence. In 2005, the school awarded him an honorary doctorate.


1970 – The 1970 census revealed that Columbia was the state's first city with a population over 100,000.


August-September 1970 – South Carolina public schools began their first statewide integrated school year.


November 3, 1970 – The first three black state representatives of the 20th century were elected to the South Carolina General Assembly.

Other Government Positions
South Carolina House of Representatives – 1951-1962
Lieutenant Governor of South Carolina – 1962-1965
Other Distinctions
1971 – McNair became a senior partner at McNair, Konduros, and Corley after leaving office.

Robert McNair: Web Resources
Robert McNair: Election Results
General Election – 1st term, April 22, 1965
Lieutenant Governor McNair rose to executive office following the resignation of Governor Donald S. Russell on April 22, 1965. Governor Russell resigned so that McNair could then appoint him to a vacant United States Senate seat. When a senate seat is vacated in South Carolina, the governor is able to choose who fills it. Since Governor Russell wanted the senate seat himself, this scheme was arranged to enable that.
Democratic Primary – 2nd term, 1966
Governor McNair ran unopposed in the 1966 Democratic gubernatorial primary.
General Election – 2nd term, November 8, 1966

Robert McNair (Democratic)
255,854 votes
58.2%
Joseph O. Rogers, Jr. (Republican)
184,088 votes
41.8%