South Carolina

SC History

SC Governors

Governor Nimrata "Nikki" Randhawa Haley
Also see: SC Government
Nimrata "Nikki" Randhawa Haley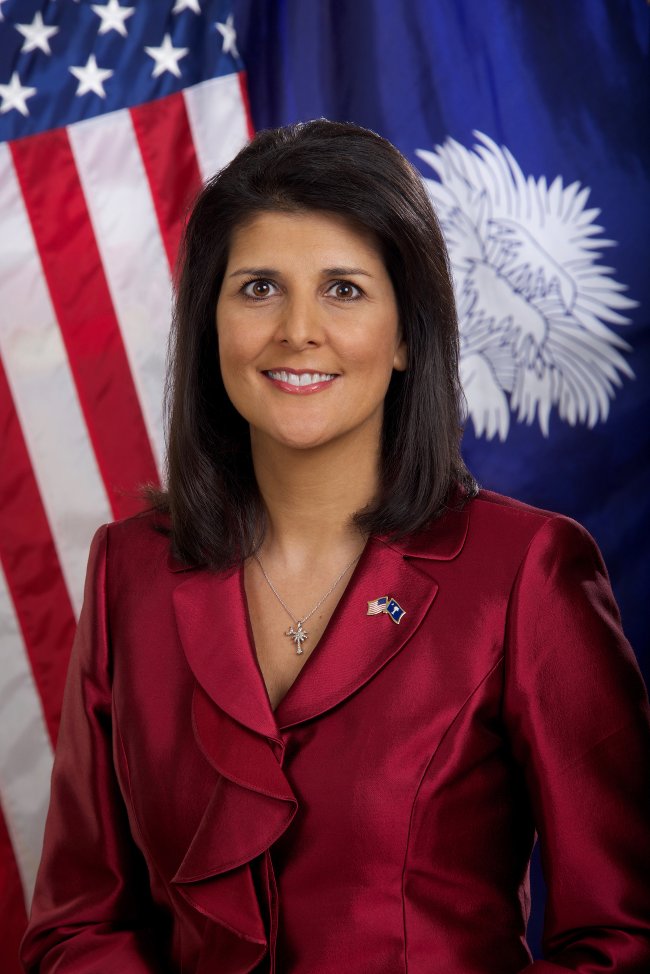 Born: January 20, 1972 in
Bamberg
, SC
Died:
Buried:
Religion: Methodist; also attends Sikh services
Political Party: Republican
(Photo: Governor's Office)
Nikki Haley: Education
Nikki Haley: Occupations
At the age of 13, Nikki Haley began assisting with the bookkeeping at her mother's clothing store. After college, she returned to work with the family business.

1st Term Events, 2011-2015
Haley was the first female and first minority (her parents immigrated from India) elected governor of South Carolina.


In 2011, Haley pressed through the General Assembly and signed into law a bill requiring legislators to put their votes on the record so South Carolinians, for the first time, could see how their representatives voted.


In 2015, Haley signed legislation to remove the Confederate flag from the Statehouse grounds.

2nd Term Events, 2015-2017
Haley signed into law ethics reforms which included income disclosure for public officials and independent investigations of ethics complaints against legislators.


On January 24, 2017, Nikki Haley resigned as governor of South Carolina after being confirmed that same day as U.S. Ambassador to the United Nations.

Other Government Positions
S.C. House, 2005-2011
U.S. Ambassador to the United Nations, 2017-present
Other Distinctions
Named as one of "The 100 Most Influential People" by Time magazine in 2016.


Haley was selected to deliver the GOP response following President Barack Obama's final State of the Union address on January 12, 2016.

Nikki Haley: Election Results
Democratic Primary – 1st term, June 8, 2010

Vincent Sheheen
111,637 votes
58.96%
Jim Rex
43,590 votes
23.02%
Robert Ford
34,121 votes
18.02%
Republican Primary – 1st term, June 8, 2010

Nikki Haley
206,326 votes
48.86%
Gresham Barrett
91,824 votes
21.75%
Henry McMaster
71,494 votes
16.93%
Andre Bauer
52,607 votes
12.46%
Republican Primary Run-off – 1st term, June 22, 2010

Nikki Haley
233,733 votes
65.05%
Gresham Barrett
125,601 votes
34.95%
General Election – 1st term, November 2, 2010

Nikki Haley (Republican)
690,525 votes
51.37%
Vincent Sheheen (Democratic)
630,534 votes
46.91%
Morgan Bruce Reeves
(Green/United Citizens)
20,114 votes
1.50%
Write-ins
3,025 votes
.23%
Democratic and Republican Primaries – 2nd term, June 10, 2014
Democrat Vincent Sheheen and Republican Nikki Haley both ran unopposed as gubernatorial candidates for their respective parties.
General Election – 2nd term, November 4, 2014

Nikki Haley (Republican)
696,645 votes
55.90%
Vincent Sheheen (Democratic)
516,166 votes
41.42%
Steve French (Libertarian)
15,438 votes
1.24%
Tom Ervin (Petition)
11,496 votes
.92%
Morgan Bruce Reeves (United Citizens)
5,622 votes
.45%
Write-ins
934 votes
.07%