South Carolina

SC Newsletters

Joan Perry: SC Blogger Extraordinaire
Editor's note: Sadly, the blogging platform that hosted "Walk This Way" crashed in December 2008. It was a huge loss for South Carolina. Joan is carrying on, however, with her new blog,
Charleston Daily Photo
.
Joan Perry – South Carolina's Blog Star

Read our June 2007 SCIWAY News article about Joan
On May 30, 2007, SCIWAY sat down with Joan Perry, creator of walkthisway.org, a photo blog featuring the Palmetto State. Read on to find out what Joan has to say about sidewalk graffiti and the strangest sights in South Carolina ....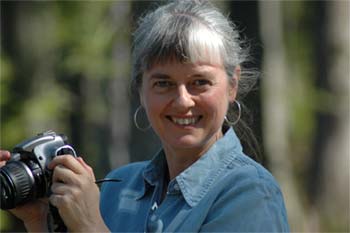 Joan Perry and Camera
SCIWAY: I notice much of your family lives in Canada and you grew up in India. What brought you to Charleston? How long have you been here, and have you lived anywhere else?

Joan: I am from a large family and the third of eight siblings. Who has families that size anymore? My father had been a high school teacher in Canada but moved us all to the hills of northeast India to be headmaster of a local elementary school in Meghalaya. We lived in a beautiful part of the country that the British used to call the "Scotland of the East."

I returned to Toronto to go to nursing school and happened to graduate at a time when there were no jobs for nurses in Canada. Most of my class was recruited to The States. I worked briefly in Florida and then spent ten years in West Virginia before moving to Charleston in 1987. My time in healthcare was spent as a Labor and Delivery Nurse and I am currently the Director of Volunteers for Roper St Francis Healthcare. I am very fortunate not only to live in one of the most beautiful cities in the world but to work with people who are doing important work because they choose to. I work with the most incredible group of volunteers and have a job that allows me to be creative.


SCIWAY: Your blog is AMAZING. If I didn't work for SCIWAY, I'd make it my homepage! It must take an incredible amount of time and energy to keep up with. It also involves a lot of traveling on your part. Why do you do it? (In other words ... why did you start, and what keeps you going?)

Joan: Thank you! Much of what is in my blog would have been scribbled on note pads, filed away, or put in a photo album before I started blogging. Blogs are actually a good way to sort and document material. I can separate quotes and poems, recipes and travel. An unexpected delight was all the positive feedback I received and the friendships and connections that developed with regular readers. I have had an unusual background and had a lot of travel tales that I wanted to jot down. It was much more fun with an audience. Knowing I have readers expecting an entry does keep me searching for new material or "blog fodder." Now readers send me tips on places I should visit or jokes I may want to use.


SCIWAY: By the way, how old is your blog?

Joan: I started Walk this Way in March of 2004 and average 500-600 visitors or hits a day.


SCIWAY: But back to traveling ... I see that you have been all around the Lowcountry, from Beaufort to Myrtle Beach and even up to Kingstree and Bishopsville. You seem to have spent a lot of time in the Edisto and Orangeburg areas, and you've visited the Upstate some too (Greenville and Laurens and Spartanburg counties). I loved the section on the Town of Perry in Aiken!

What I want to know is how do you decide where to go? How many weekends a month do you travel? And do you travel for work, or to go to festivals, or are road trips just a great love of yours?

Joan: The funny thing is I don't even enjoy driving very much, but I always have my eye out for a quaint scene, historic spot, or fun sign. When I do travel I tend to get up early and explore on foot. If someone else is driving I boast of being the world's best passenger, but they get used to me squealing that we have to stop for a photo op! I get together periodically with other volunteer coordinators in the state and often serve as photographer for our events. Nothing cheers me up more than a day trip to see new sights on a beautiful morning with either a picnic packed or a stop at a BBQ restaurant.


SCIWAY: Another one of my favorite sections is the one for Spit and Argue Club. For some reason, it reminds me of an old juke joint I used to know of called the Too Sweet Disco. I think if I were a blogger, I would want to go around and take pictures of old juke joints around the state! My coworkers Cedric and Kerri say they'd want to take pictures of "cars on poles" – which until recently I didn't even know existed! What made you decide to be Charleston's Unofficial Sidewalk Graffiti Curator? Churches, cemeteries, signs ... all of these seem to be special loves of yours. (As opposed to, say, old barns or beautiful windows or lighthouses or slave cabins.) What do you think draws you to these subjects in particular?

Joan: The sidewalk graffiti fascinates me. Let me begin by saying that I am absolutely against graffiti that damages homes and buildings. Sidewalk graffiti seems different – nothing is harmed and it leaves a quick, personal, and permanent message. Our Charleston sidewalks are a clear sign that we have a city that has been lived in by mischievous children and intelligent young people. Considering the brief window of opportunity when you can write in cement, I am amazed as what I find. From "Wow! Wet Cement!" to bits of poetry or a simple "Be Kind." I've collected hundreds of messages in cement. What would you write if you had the opportunity to leave a message? Some of my favorites are "I Spoke Your Name for Many Days," "Enjoy Being," and "Love is for All, You and Me."

I do tend to haunt old cemeteries and church yards. Again I think what interests me is the message people chose to pass on in the inscriptions on tombstones as well as the perfect peacefulness. Handwritten signs charm me.


SCIWAY: In all your walks and travels, you have definitely seen some crazy things! What stands out in your mind as the strangest of all?

Joan: I was able to stop a young man who was stealing artifacts from a historical cemetery by taking pictures of him in action. I was so outraged that I started taking pictures of him in action. He actually put them back and I was later thanked by the church after the incident was publicized. I've seen baby herons testing their legs for the first time, a pianist playing a piano outside Galliard Auditorium while it was waiting for the movers, a house on Gillon Street that was covered in fake snow in the middle of summer for a photo shoot. I've been able to offer help to lost souls and people who have fallen, and almost stepped on a rattlesnake myself on a swamp path. I will always regret missing a picture of the lady Civil War re-enactors dressed in hoop skirts trying to get into a port-a-potty.


SCIWAY: What stands out as the most poignant or beautiful?

Joan: I've been amazed at the rewarding connections I've made through the blog. I've been in touch with the young descendants of the gentleman who lived in my house in the 1800's. I've been contacted by children of friends I went to high school with in India. I've been visited by new friends from Tennessee and Texas who got to know me through the blog and met a new group of local bloggers here in the lowcountry who have been getting together socially for a year now. That said, most of the people I work with every day have no idea that I do this and have never read "Walk this Way."


SCIWAY: Last but not least, what do you do when you're not blogging?

Joan: I do a lot of walking obviously, that's where I get most of my material and photographs. I believe walking is the most efficient, cheapest, and easiest form of exercise.

I am the Volunteer Director for Roper St Francis Healthcare in Charleston, a supporter of the American Heart Association, and I serve as photographer for quite a few non-profit events. One of my missions to is to encourage the right young people to go into healthcare, and every year I see a few new graduates hired who started serving with me as a teenage volunteers and discovered their career path.

My camera gets me invited to a lot of interesting events! I do love to travel and that fits nicely with the walking and photography. I've taken hiking trips to Ireland and Peru in the last few years.