SC Picture of the Month – Snowfall at the State House
This cheerful winter scene shows the capitol building standing proudly at the head of Main Street in
Columbia
. There, the State Christmas Tree heralds the start of another holiday season.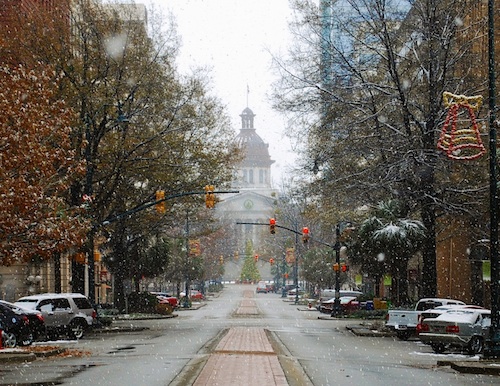 © Frederick Austin of Gilbert
Columbia is home to the 58th annual
Carolina Carillon Holiday Parade
which is scheduled for this Saturday, December 3rd. The parade kicks off at 9:45 AM at the intersection of Gervais and Bull streets. It will continue west on Gervais, passing in front of the State House and then into the Vista. The parade features dozens of floats, marching bands, live performances, and of course – Santa Claus!
Can't make it to Columbia to see the big event? Live coverage of the parade will be aired in over 40 counties since it is the official holiday parade of South Carolina – so check your local listings!
Many thanks to photographer Frederick Austin of
Gilbert
, who took this snowy shot during a rare white Christmas in December 2010.

Add your SC picture
to the
South Carolina Picture Project
and the next photo of the month could be yours!