UPDATE: Some of the links in this article no longer work. Sadly, bear baiting is still active in South Carolina. No laws have been passed against it.
By Andrew Page – Humane Society of the United States Bear baiting is legal only in South Carolina and Pakistan – that's it. Help us end this barbaric blight on our state. Add your name in support of SC Senate Bill 201 today

(link no longer active)

.

Five months ago the Humane Society of the United States released a national investigation showing

disturbing video

(you will be required to enter birthdate as video may be inappropriate for some users) of four bear baiting competitions in South Carolina.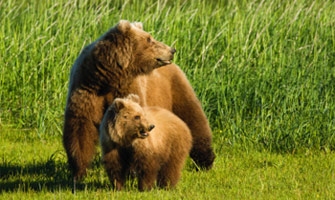 This is the first time that images of these violent events, sometimes called "bear baying" by participants, have been available for the public to see – and they show sustained acts of cruelty that South Carolinians have been appalled to learn about.
Senator Joel Lourie of Richland has introduced Senate Bill 201 to rid our state of this sick sport. Now, the legislature must stand up and stop this cruelty. (Write your state leaders now with this quick and easy form
- form no longer available
.)
This horrifying practice only takes place in South Carolina – specifically in Spartanburg, Hickory Grove, and Travelers Rest. No other state permits this blood sport.
In South Carolina's bear baiting competitions, a captive bear is tied to a stake in a fenced area. Hundreds of howling dogs are released – from one to three at a time – to lunge, bark, and bite her flesh.
The bear's claws and some of her teeth have been cut, rendering her defenseless. Cornered and terrified, the bear has no way to escape. She is attacked for hours at a time without access to food, water, or shelter.
Dogs are judged on how successfully they can torment and control a bear, and their handlers are awarded trophies and prizes. Almost unbelievably, crowds of spectators watch and encourage the ordeal. Undercover agents for the Humane Society found events occurring just about every weekend.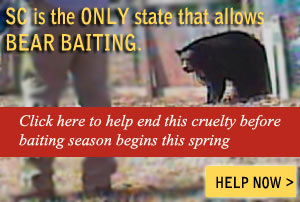 Who could watch the abject terror of this trapped animal and not want to put an end to this appalling mistreatment? Who could allow it? Sadly, here in South Carolina we have condoned bear baiting for years. We even specifically exempt bears from our state law outlawing animal fighting.
If SC Senate Bill 201 is not passed, scheduled bear bays will carry on this spring.
The
same bear shown in this video
(you will be required to enter birthdate as video may be inappropriate for some users) will be abandoned to hundreds of other barking, biting dogs.
For her sake and for the sake of all the other bears like her,
please ask SC lawmakers act immediately and do the right thing now
.