Pearl Fryar's Topiary Gardens – Bishopville, Lee County, South Carolina
South Carolina

SC Tourism

SC Gardens

Pearl Fryar's Topiary Gardens
Pearl Fryar Topiary Garden – Overview
A Cut Above – When Pearl Fryar moved to Bishopville in 1976, the three acres that surround his suburban ranch-style home consisted of nothing but flat, barren cornfields. In the early eighties, he began planting and pruning trees and shrubs. After two-and-a-half decades of near constant labor, he has transformed his yard into an internationally-known topiary garden that attracts 5,000 visitors a year. In May 2008, SCIWAY traveled to Bishopville to meet Mr. Fryar, who talked to us for the better part of two hours and treated us to ice cold bottles of water and our very first ride on a cherry picker!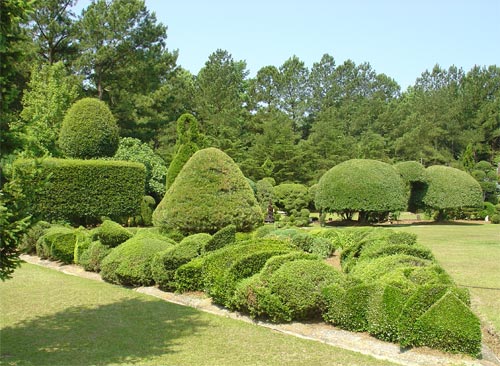 Pearl Fryar's Topiary Garden © SCIWAY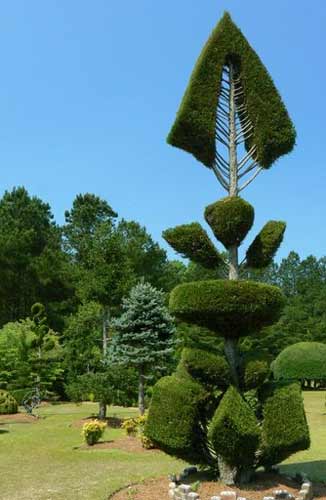 Pearl Fryar's Fishbone Topiary © SCIWAY
A Man Named Pearl – Documentary & Reviews
A feature-length documentary released across South Carolina in 2007, A Man Named Pearl is now taking national film festivals by storm.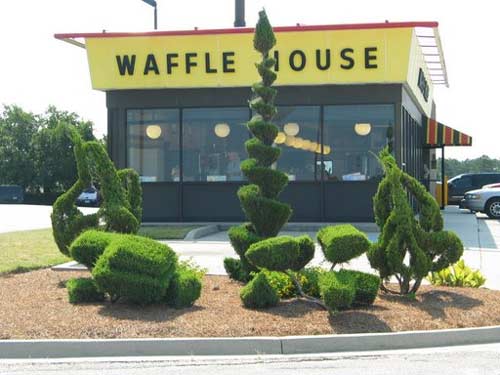 Bishopville's Waffle House – © SCIWAY 2008
The Future of Pearl Fryar's Topiary Gardens
The Garden Conservancy, a national nonprofit preservation organization, has recently designated Fryar's garden as one of the Southeast's four most preservation-worthy garden properties. Together with the newly-formed Friends of Pearl Fryar's Topiary Gardens, their goal is to ensure that Fryar's masterpiece will grow and thrive for years to come.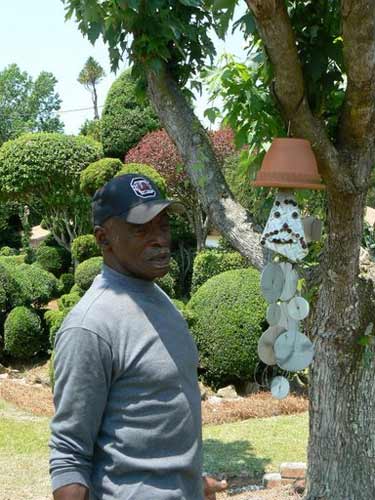 Fryar Shows Off His "Pot Head" Hanging Sculpture – © SCIWAY 2008
Pearl in Pictures: Videos, Photos, and Podcasts of Fryar and His Garden
Almost all the links in our guide contain pictures of Fryar's amazing topiaries. The links below are dedicated to documenting Fryar's artwork via video and photographs. (The last link leads to a podcast of one of Fryar's lectures.)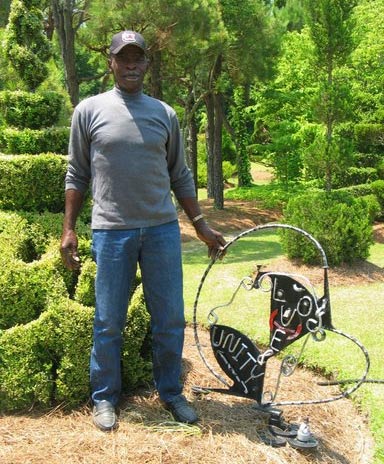 Fryar Stands Beside His "Love & Unity" Sculpture – © SCIWAY 2008
Pearl Fryar – Further Reading