— Introducing the SC Picture Project Wish List —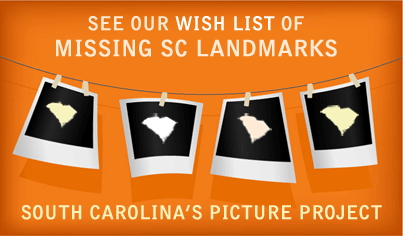 The
South Carolina Picture Project
now hosts over 1,500 photos and paintings, which means we're well on our way to documenting this great state! Hundreds of landmarks remain missing, however, and we want to ask for your help.
If you are an artist or photographer who is interesting in sharing your work, we have created a
wish list of missing South Carolina landmarks
. We often get requests from people who are looking for inspiration, and we hope this list will help spur many hours of fun behind your shutter or sketchpad.
Of course, we also welcome additional shots of those landmarks we've already begun to document. Any one scene has so many sides to it, and we'd love to document them all.
For those of you who are new to the SC Picture Project, its purpose is to celebrate the beauty of the Palmetto State while preserving its landmarks and landscapes in a permanent historical repository. The Picture Project is viewed by 3,000 people each day – or over 1,000,000 a year!
Contributing photos and/or information (history, anecdotes, reviews, tips, and more) is a great way to honor your favorite town or scenic spot. It's also a great way to get your name and website out there! Click these links to find out how to
add content
or
add photos
.