The Campbell Covered Bridge is the last remaining covered bridge in
South Carolina
. It was built in 1909 and is located in
Greenville County
, near the small town of Gowensville.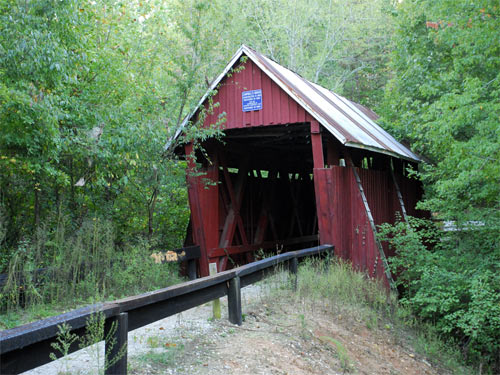 © Steven Faucette of Williamston
One of four covered bridges built in northeastern Greenville County in the early 20th century, this one was named for Lafayette Campbell, the owner of a nearby corn grist mill. He allowed his land to be used for the bridge's construction.
| | | |
| --- | --- | --- |
| | | |
| © Ann Helms of Spartanburg | | © Steven Faucette of Williamston |
At the time, covered bridges were especially popular in the mountains because they provided extra protection for river and creek crossings in snow and ice. Easier access across the creeks in all kinds of weather significantly reduced travel time and helped connect the small communities scattered through this rural area. Among the many benefits, and perhaps foremost in the mind of Lafayette Campbell, was the fact that it was easier for farmers to bring their corn to his mill.

Submit your SC pictures to SCIWAY
and the next photo of the month could be yours!