Meet Miss South Carolina United States, Valarie Kobrovsky, who uses her crown to promote animal rights and humane education. Valarie also placed Second Runner-Up at the "Miss United States" pageant in Las Vegas this summer. Here, she talks about her volunteer work and presents three New Year's Resolutions for South Carolina.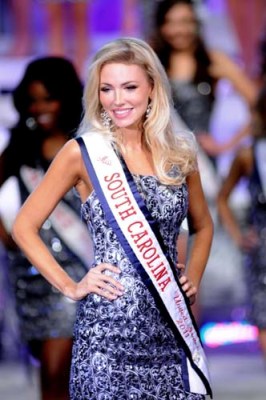 Although she's become quite the jet-setter, modeling all over the world for designers like Alberta Ferretti and Oscar de la Renta, Valarie is still proud to call the Palmetto State home. In fact, she just returned to Sullivan's Island after wrapping up a new movie set to hit theaters this April. We can't drop its name yet, but let's just say it'll be a new "slice of Americana!"
While you wouldn't know it to look at her, Valarie wasn't always as poised as she is now – in fact, her true potential wasn't realized until the summer before her 17th birthday. That was when she was named a regional winner of Elite Model Management's "Look of the Year" competition in Atlanta.
"It wasn't until then that I realized I was ridiculously tall for a reason!"
Valarie sees pageants as a way to bring awareness and support to causes she cares about. "I wanted to use the crown as a microphone to heighten the public's awareness of animal rights and humane education issues."
Valarie has always had a strong love for animals – and an equally strong desire to help them. She has been a vegetarian since she was six and still remembers the moment she stopped eating meat:
"I was eating steak at a friend's house, and her older brother began joking about how the cows had been killed. He said they'd been killed with a bolt to the head (a combination of a hammer and a gun). He made some pretty graphic remarks about the blood and gore that go along with slaughtering. I was horrified. It had never occurred to me that animals had actually been killed to make the food that was on my plate."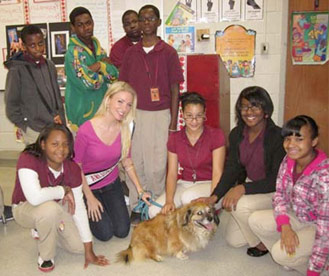 Since accepting the crown, Valarie has volunteered around the state on behalf of animals. Here are a few of her favorite SC animal welfare groups:
Headquartered in Orangeburg, The Healing Species is a compassion education program that helps troubled students overcome violence, bullying, and crime through an 11-week curriculum using rescued dogs in classrooms. The program teaches empathy for others and the importance of widening one's "circle of compassion" to include animals. The program has been so successful here in South Carolina that it has been replicated in Texas, Wisconsin, Washington, and even New Zealand!


Pet Buddies is sponsored by the Charleston Animal Society. As a Pet Buddies volunteer, Valarie visits classrooms with her rescued pit bull mix, Ryan, and teaches students about pet care and the importance of spaying and neutering. Members of Pet Buddies receive a BARK (Be Aware, Responsible, and Kind) Scholarship that allows them to have their pets spayed or neutered for free.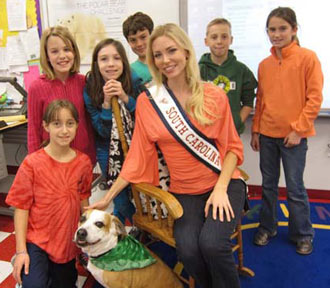 Valarie was the keynote speaker at Farm Sanctuary's Walk for Farm Animals in Charleston. The walk gives people a chance to gather and promote kindness for all animals, while also protesting the cruel conditions of factory farms.


Last but not least, Valarie also volunteers in the Upstate with the Humane Society of York County. In 2011 she participated in the Fore the Animals Golf Outing and Bark in the Park at the Charlotte Knight's stadium in Fort Mill.
Valarie's traveled the globe but says there's no place she'd rather call home. Although she's proud of the Palmetto State, she acknowledges we still have some serious animal rights issues we need to address.
Watch this video to learn about her 3 New Year's Resolutions for South Carolina.