Laurel Fork Creek – Oconee County, South Carolina
---
South Carolina | SC Picture Project | Pickens County Photos | Laurel Fork Creek
Michael Traufler of Columbia took this shot of Laurel Fork Creek near Lake Jocassee in May 2008.
He writes: "This photo is of Laurel Fork Creek just above Laurel Fork Falls where the creek empties into Lake Jocassee. It was taken while on a backpacking trip in May 2008. This creek has a lot of salamanders and small fish. It also happened that early May is a good time to see the Blue Ghost Fireflies that have the unique characteristic of not flashing. They emit a steady light and the woods were thick with them as soon as the sun went down. It literally looked as if someone had strung Christmas lights through the woods."
More information, including directions: Laurel Fork Falls and Trail.
Laurel Fork Creek – Add Info and More Photos
---
The purpose of the South Carolina Picture Project is to celebrate the beauty of the Palmetto State and create a permanent digital repository for our cultural landmarks and natural landscapes. We invite you to add additional pictures (paintings, photos, etc) of Laurel Fork Creek, and we also invite you to add info, history, stories, and travel tips. Together, we hope to build one of the best and most loved SC resources in the world!
Related Pages
---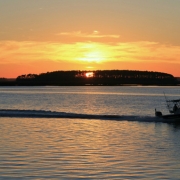 ---
Copyright: All images in the SC Picture Project remain the property of the photographer or artist.
You may not use them in any form without written consent.
SCIWAY does not provide contact information for photographers.