Boiled Peanuts – Pelion, South Carolina
---
South Carolina | SC Picture Project | Lexington County Photos | Boiled Peanuts
In 2006, the General Assembly made boiled peanuts the official state snack of South Carolina.
Guntis Sprenne of
Pelion
© Do Not Use Without Written Consent
Boiled peanuts have a long history in South Carolina, dating all the way back to the Civil War, when Confederate soldiers used the legume as an important source of protein during food shortages.
The practice continued after the war and eventually spread throughout the state. Farming communities would gather in the fall and boil the unsold peanuts in a harvest celebration. This tradition is still prevalent in smaller towns such as Pelion, where they hold the annual South Carolina Peanut Party.
Boiled Peanuts – Add Info and More Photos
---
The purpose of the South Carolina Picture Project is to celebrate the beauty of the Palmetto State and create a permanent digital repository for our cultural landmarks and natural landscapes. We invite you to add additional pictures (paintings, photos, etc) of Boiled Peanuts, and we also invite you to add info, history, stories, and travel tips. Together, we hope to build one of the best and most loved SC resources in the world!
Related Pages
---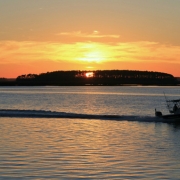 ---
Copyright: All images in the SC Picture Project remain the property of the photographer or artist.
You may not use them in any form without written consent.
SCIWAY does not provide contact information for photographers.