Greenville Elections and Candidates: 2016
---
South Carolina

SC Government

SC Elections

Greenville Elections

Need to find out about Greenville candidates and elections? This is the spot! The list below includes up-to-date links for Greenville's local city, town, county, school board, and special district races.

If you need info about federal or state-level elections in Greenville, please go to our main SC Election Guide.



Add a Greenville County candidate here.


---
Greenville Candidates for US Congress
US House District 3 includes Abbeville County, Anderson County, Edgefield County, Greenwood County, Laurens County, McCormick County, Oconee County, Pickens County and Saluda County plus portions of Greenville County and Newberry County.
District 3 Map
District 3 Candidates
US House District 4 includes most of Greenville and Spartanburg counties.
District 4 Map
District 4 Candidates
---
Greenville State House Candidates
District 10 Map
District 10 Candidates
District 16 Map
District 16 Candidates
District 17 Map
District 17 Candidates
District 18 Map
District 18 Candidates
District 19 Map
District 19 Candidates
District 20 Map
District 20 Candidates
District 21 Map
District 21 Candidates
District 22 Map
District 22 Candidates
District 23 Map
District 23 Candidates
District 24 Map
District 24 Candidates
District 25 Map
District 25 Candidates
District 27 Map
District 27 Candidates
District 28 Map
District 28 Candidates
District 35 Map
District 35 Candidates
District 36 Map
District 36 Candidates
---
Greenville County Candidates

Elections for Greenville County will be held November 8, 2016.



---
Find Your Greenville Precinct, Polling Place, Voting District, and Sample Ballot
Use this form to find your precinct number, your polling place, your districts, and a sample ballot – for US Congress, SC Statehouse, SC Senate, School Board, County Council, and City Council district (if applicable).

---
Greenville District Map
---
More Greenville Election Resources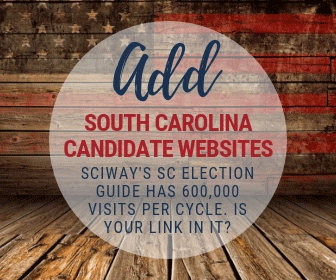 South Carolina's Site of the Day

ALL SC CATEGORIES